The finish line and the feeling you get when you cross that line is like no other.

Spectators see what the finish line holds for the athlete.


The desperate lunge for the line during the 800M run.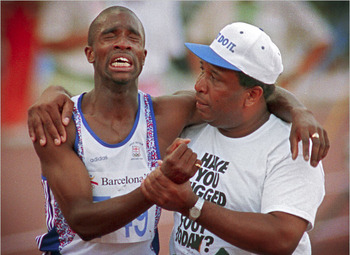 I personally witnessed the picture above standing near the finish line.
Yes, spectators can live in the moment with the athlete but the true finish line feeling is reserved for the athlete....because it comes from deep inside a person. It is definitely a feeling that I wish we could bottle up and share with the rest of the world.
Somehow my friend Liz has tried to share this feeling with the world. I first introduced you to
Liz here
.
I have tried to be a consistent supporter of Girls With Sole whenever I can. Earlier this year I
rowed
and
swam to raise money for Girls With Sole
.
Well Liz wrote a book titled, but what else,
Finish Line Feeling
. It is a personal memoir of her life as a foster child, sexual abuse survivor, mother, wife, friend and founder of
Girls With Sole
.
Liz gave me a copy of her book to read and review. Unfortunately it look me a long time to write this review, but I'm glad I took my time. First I don't like to write crap on my blog, I choose my words carefully. Second, my delay has given me time to re-read some sections and think more about her book....and life.
So here is my thoughts about Liz's book.
Within the first several pages I felt like I had read enough. There wasn't much more I could get out of the rest of the book.
"In my mind I knew that I would be left behind or sent away, just as it had been in the four foster homes I lived in before I was adopted (the different places I lived between birth and 2 years old......I was determined to pack it up, pack it in and get going before someone could tell me that I had to leave. Rejection is never a good feeling, but the sting is lessened when it is experienced on your own terms."
And this is only the prologue and the first two pages of chapter one. I just learned more about the human psyche in four pages of Liz's book than my 45 years of life.
I've known Liz for around 6 years and this book gave me a peek into her life. She recalls key moments in her life that helped define who she is now. Because of the trauma and abuse she experienced at a young age, Liz was sometimes a confused and violent person who didn't love herself or felt she deserved such love.
She takes you through how she almost "gooned" her mom and built her Hall of Shame. And she is not one to hold back on what she writes about or the words she chooses. There would be a great loss of meaning if she had watered it down.
At times the book seemed a little disjointed. I am a timeline type of person. I like to move from point A to point B in order. A couple of times the book jumps around a little but stay true and it comes back together just fine.
I found myself getting a little bored with her early adult years in Europe, yes this girl is a world traveler. But I went back and re-read some chapters. The second time through I had a better understanding of how her very early years, as quoted above, influenced her relationships as a young adult. She wrote about it because it was her life. The book would not be complete without the humorous stories or fragile relationships.
When you read this book by "Auntie Whiz" you will learn how NOT to use poison ivy, about "checking the oil", signing the constitution and how most things "ain't shit".
But most importantly you will see how a strong willed and determined woman overcame it all in order to give back through Girls With Sole.
Finish Line Feeling is....Game On.